Welcome Guest. PleaseLoginorRegister.
Mill.Boards.net Harbor Freight Sawmill Owners Forum
Troubleshooting – Harbor Freight Mill
Tick this box if you would like to allow other members to add images to your gallery.
This was a thread I started on another forum & edited a small amount to be more fitting here.
Ive done a few things in the short time Ive had my mill. I decided to start a thread that I can keep updating so people that are interested in this mill can see how things are going for me, what problems Im having, & how Ive adapted.
I usually us file hosting sites to host my pictures. Give me some time & Ill link a few.
Ill keep editing the list in the first post as long as Im allowed. If there is a time limit on editing Ill ask a mods help in editing or add to the list in a new reply.
I hope this will be useful to people looking into this mill or helpful to those having problems with it.
First thing I did was order two pieces of angle that was 20 5/16 thick 3×4 long to allow me to cut longer logs. This also allowed a couple of extra inchs of log high.
In extending the track I decided to make new bunks. Im using H structure & only since I already drilled holes to fit the stock bunks I decided to drill on one side of the H structure for mounting. I also bought 2 thin tubing for the standers but since they are metric I had to weld a thin piece of angle in one corner to take up the slack. I plan on putting this on both sides to help with loading logs to keep then from rolling off the other side.
I use a 1.5×2 wood block on the tip of the log dog after getting it into a cant or board to keep from damaging them.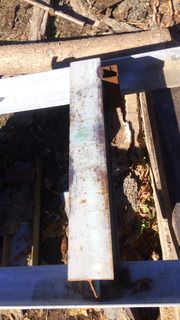 I need to be able to move my log dog around to get in the best position to hold the log so I welded small pieces of pipe to angle that will slide over the piece of pipe that the log dog tracks on. I use C clamp vise grips ATM to hold it in place.
I wasnt cutting very good lumber with the stock blade so I ordered 4 Wood Maxx blades from Kasco. Youll need to call & talk to Derek to get these since they arent listed in their site.
In very short turn the roller bearings on the guides froze up so I removed them popped the seals & used Dextron III to get them moving again. Once moving I washed them out & filed with grease.
The drive belt doesnt fit the clutch so the side will get cut out of it. I replaced this belt from a local supplier.
Im considering upgrading to a bigger engine.
Another mod is turning the roller legs around backwards & switching sides with them. Saw dust was packing in the rulers on about every cut. Putting the short side in back & the long leg in front keeps the dust from being blown under the roller. It also moves the stater & locking cams closer to you when standing at the back of the track.
I was having a problem with locking cams not having enough pressure to keep from sliding down the post during a cut. The quick fix was using my wifes hair bungee to hold the cable crank until I tightened up the cam locks. However they are a poor design & if you dont push up on the hinges & pull down on the handle at the same time the rod will bend. As I get time Ill decide how to address this. More then likely with a new design.
This isnt a mod but I think I should add this as well. Cutting Edge (a member of another forum) told me to get the proper tension on the blade use a caliper ran out to 6 & clamp it to the slacked blade. Tension the blade until you get .005 of stretch.
I was having large amounts of saw dust getting in the rollers which I still need to make a way of self cleaning. Until then I decided to try to deal with where the dust is coming from. The dust is traveling over to the idler side & dropping out of the cover on the track right in front of the wheel. I have planned to add a piece on angle to the bottom of the head post just clearing the track. Possibly adding a brush to it as well. In the mean time Ive added some duct tape to the band housing just below where the blade comes out of the cover. This cause most of the dust to now fall inside of the track instead of on it.
My track rollers started locking up also so I repaired them the same way as the blade guide rollers.
I also took a Sharpy & laid off lines every quarter inch on the standers.
I actually have a pretty easy fix for the carriage rollers getting clogged with sawdust. It takes 8 bolts 8 holes and 16 nuts to do. 1\4 inch by 3 or 4 inches long bolts are bent to a 90 degree angle. The head is cut off and sharpened to fit the angle of the roller. The threaded end is used to fine adjust to center of the roller, as you push, it self cleans. There are 2 per wheel so it cleans on the back stroke as well. Ill have to take pictures to illustrate this, but it does work well.
Welcome to the shoutbox, where you can chat with online users!
Click here to remove banner ads from this forum.
This Forum Is Hosted For FREE ByProBoards